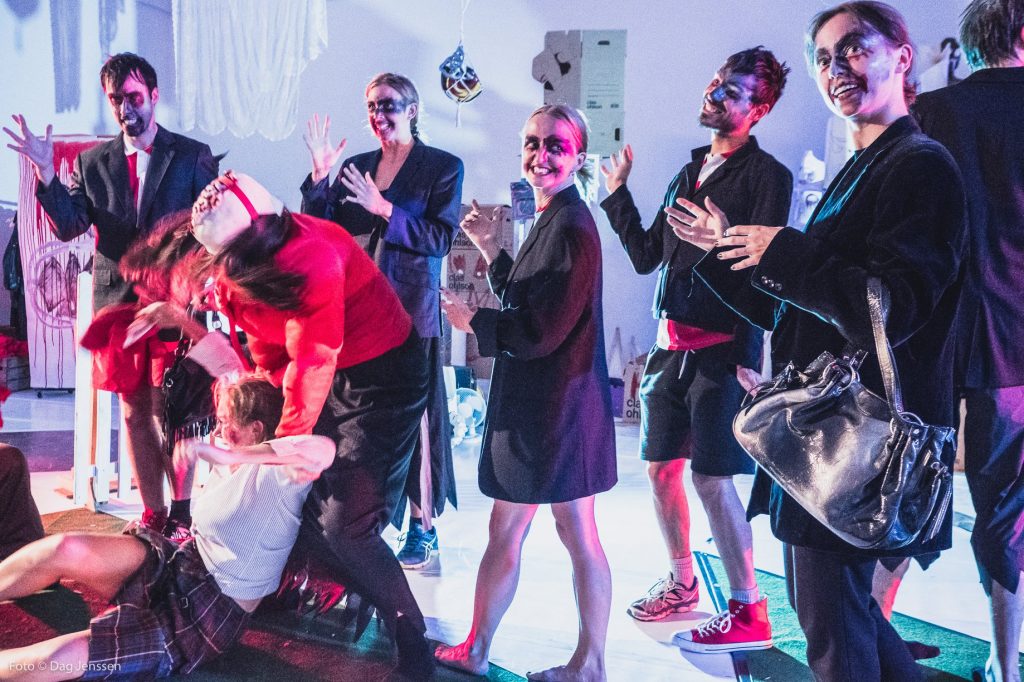 THE HELLMOUTH EDITION
This Buffyverse is an all-inclusive performance that lasts throughout the night based on Buffy the vampire slayer containing vampires, demons, concerts, curses, incarnated demons, musical, a silent movie and death.
Initiative / organization: Marie Ursin and Alexandra Tveit.
Directior: Marie Nikazm Bakken.
Costumes and scenography: Fredrik Floen.
Sound design: Patsy Lassbo.
Presented at Scene:Bluss at PiT international theatre festival, Porsgrunn, Norway 2018.
---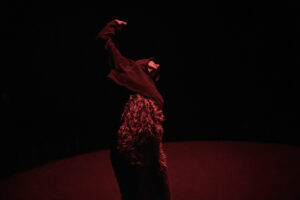 SKYMNINGSFÅGLAR
is a sound and movement installation where we examine the darkness and the importance of the night for living things.
Concept and choreography: Katja Seitajoki together with dancers.
Dance: Lisen Ellard / Lisen Pousette, Ellen Söderhult and Noah Hellwig
Composition: Tomas Björkdal and Lena Swanberg
Costume: Maline Casta
Text: Alexandra Loonin
Light: Mira Svanberg
Production: Arena Baubo
Photo: José Figueroa
Showing SITE spring 2023. Premiere Dansplats Skog fall 2023.
---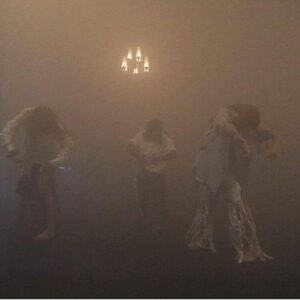 DUNKA DUNKA
is camouflaging in a dj-set, a stirdy cluster of songs and a slow melting dance concert, pressing frictions between sounds and dances in a forrest of colliding textures and emotions.
Choreography: Ellen Söderhult.
Song and dance: Lisen Ellard, Iki Gonzalez Magnusson, Ellen Söderhult, Emelie Empo Enlund.
Dj set and sound: Daniel Iinatti
Set design: Tove Dreiman
Premiered at Dansplats Skog 2020, performed at Dansatellier, Copenhagen and Köttinspektionen Uppsala. New premiere Weld, Stockholm 2022.
---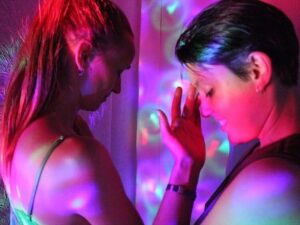 KNOCK, KNOCK
Performance installation by Josefina Björk.
Performed by Lisen Ellard, Ofelia Jarl Ortega, Sandra Lolax.
Performed at group exhibition: Squint it may appear clearer, 2021 in Stockholm
---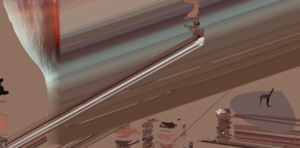 RINGBLOM
Ringblom is an installation and performance embodied through choreographic and sculptural perspectives. It navigates a space of sculpture, dance and video. Moving through different temporalities and access, it is an invitation to drift off track – peeling off layers. Ringblom explores moist, distractions and form.
Artistic responsibility, direction, choreography: Veronica Bruce.
Dance, performance: Jennie Bergsli, Lisen Ellard, Luisa Fernanda Alfonso.
Sculpture: Karoline Bakken Lund.
Camera, editing, animation: Maria Hilde, Marianne Andersen.
Vibraphone: Geir Strande Syrrist.
Virtual Environment: Sebastian Mangseth, Kevin Adamsrød.
Black Box teater, Oslo Internasjonale Teaterfestival 2021.
---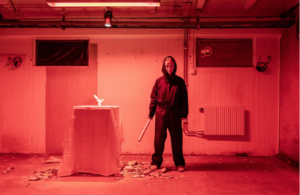 NATTÖVNINGAR
A performance were we confront the fears of our time by inviting you to a place where fear as a tool of control is explored. To a room where the crisis's various stages are perceived through personal meetings.
Concept: Tomas Rajnai & Jens Nielsen
Set-design: Annika Tosti
Light-design: Anton Andersson
Actors: Alica Tserkovnaja, Britta Olsson, Björn Vårsjö, Lisen Ellard, Siri B. Bengtén, Ulrika Briandt Svensson, KerstinStröm-Nielsen.
Producer: Emelie Bergbohm – Bohm Bohm Room
Photographer: Jonas Eng
Graphic Design: Leon&Chris
Stockholm 2018.
---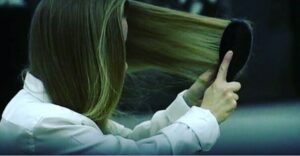 THE CLEANER / ART MUST BE BEAUTIFUL, ARTIST MUST BE BEAUTIFUL
By Marina Abramovic.
Collaborator: Lynsey Peisinger
Performance The Cleaner and re-performance at Moderna Museet, Stockholm 2017. The Method at Henie Onstad Kunstsenter Oslo 2018.
---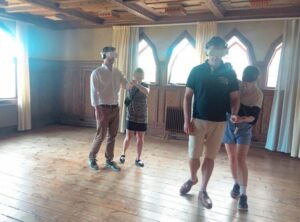 SYMPHONY OF A MISSING ROOM
By Lundahl&Seitl, performer, Sthlm, 2016-2018.
---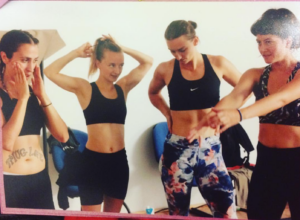 MY BODY IS THE FIELD FOR TOMORROW'S BATTLES
As the last domain that still seems controllable, the body has become the battlefield for the conflicts that surround us. It is shaped and designed to become the ultimate weapon. Superhuman strength is just one of the skills we need to train to survive what is coming. What visions of the future, ideologies and role models are hidden behind this desire?
CONCEPT, DIRECTION Rose Beermann ARTISTIC COLLABORATION Juli Reinartz BY AND WITH Lisen Ellard, Annegret Schalke, Melody Panosian, Lea Kieffer STAGE, COSTUME Arnita Jaunsubrēna SOUND DESIGNMalu Peeters LIGHT DESIGN ADVICE Dirk Lutz
2016-2017 Sophiensaele i Berlin, Lofft Theater i Leipzig.
---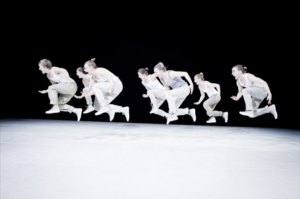 TRIP en masse
by White Horse. Performed at Festival Tid for Dans på Kulturhuset Ælvespeilet, Porsgrunn, Norge 2014.
Performers: Tea Harryson, Annie Kay Dahlström, Lovisa Rosell, Alexandra Tveit, Anna-karin Domfors, Lisen Ellard, Katrine Johansen.
---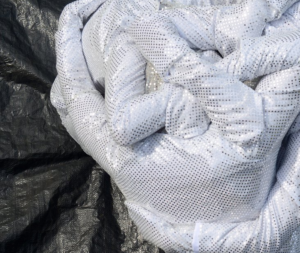 LUFTSLOTT
In Luftslott the dancers get stuck in, evoke and crush dreams, desires and illusions.
Performed at Norrköpings Konstmueum 2016.
By and with Tea and Sofia Sosso Harryson, Lisen Ellard.
Music: Norbert Lukács.
Produced by Blauba.
---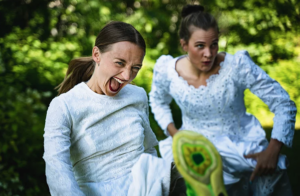 POST WEDDING DEPRESSION
By Johanssons Pelargoner och Dans.
---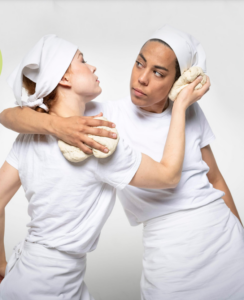 BAKVERK
Choreography: Dansgruppen Agnes
Dans och produktion: JELNEK
Dikt: Lina Ekdahl
Musik: Magdalena Eriksson
Tour Sweden, 2020-2021.